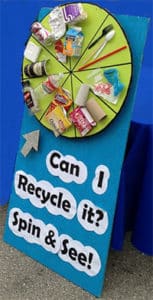 Let us help you educate your family, friends, neighbors and community leaders about recycling.
Meetings
We can speak at your neighborhood or community meeting, give a presentation to your group members and provide handouts of recycling information.
Events
We love attending community events. We can staff an information table, bring our Recycling Wheel-O-Fun and provide flyers and handouts to help your attendees learn about recycling.
Yes, I Want Saint Louis City Recycles To Attend My Meeting or Event!
Calendar of Events