UPDATE July 2017: We've given out all of our current supply of in-home bins!  We will be ordering more for the fall– check back with us soon! 
The Saint Louis City Recycles Team wants to make sure you have the tools to recycle properly!  Thanks to the generous support from St. Louis-Jefferson Solid Waste Management District and Missouri Department of Natural Resources we have in-home recycling bins for St. Louis City residents as part our "Buck Up for Recycling" program!
For a $1* donation you will receive a 13 gallon, blue, in-home recycling bin perfect for keeping recyclables separate from trash and easily empty it into your blue recycling dumpster or rollcart for collection.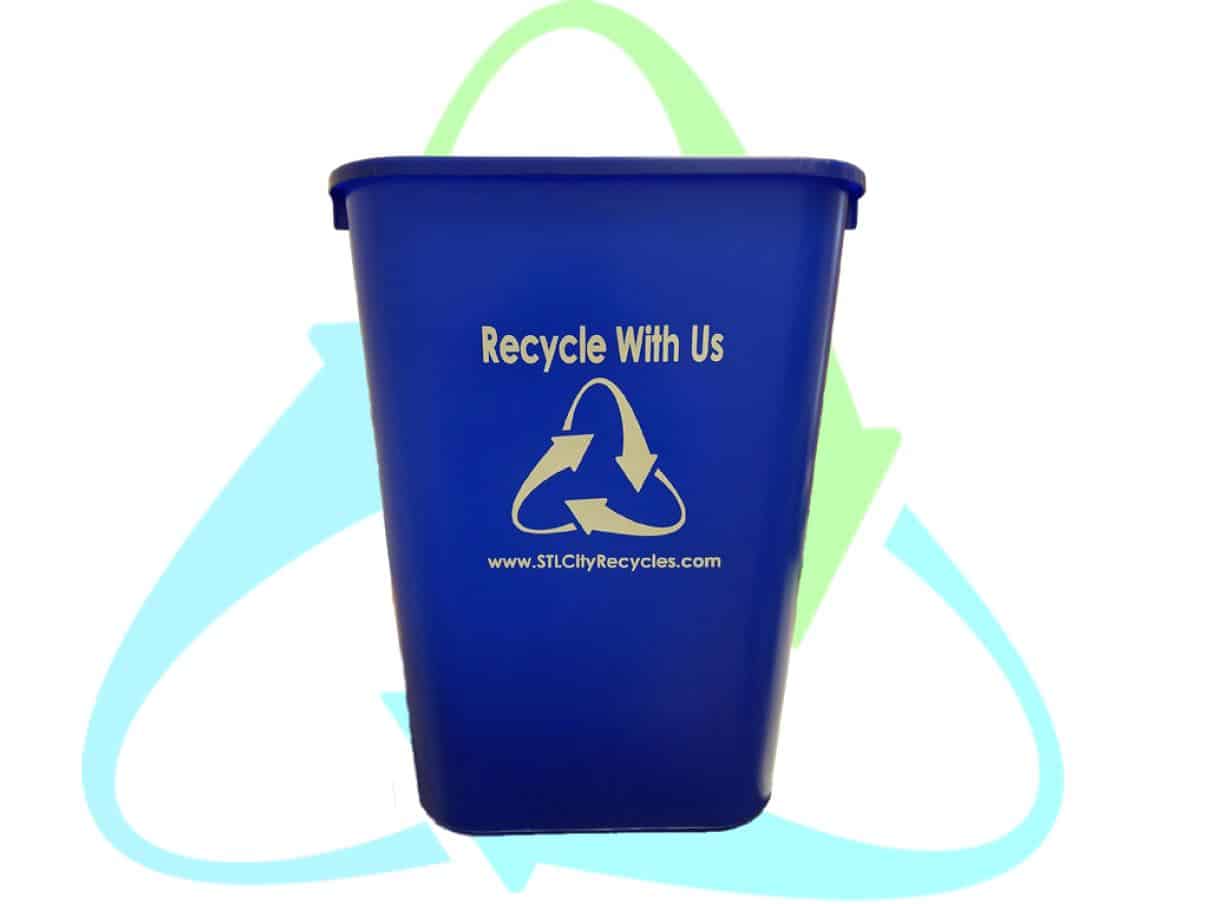 You will also receive:
The newly developed Ultimate Waste Disposal Guide in booklet form to answer everyday recycling and waste questions
A handy refrigerator magnet showing everyday recyclable items
A reusable tote bag to eliminate the need of plastic bags on shopping trips
A Saint Louis City Recycles window cling, perfect for your home or vehicle
A Saint Louis City Recycles button to proudly show your family and friends your commitment to recycling!
You can pick up your in-home recycling bin the Brightside St. Louis office located at 4646 Shenandoah Avenue 63110, Monday through Friday from 8 am to 5 pm.  Need to pick up bins for your neighbors?  No problem!  Just bring their contact info (name, address, email and phone number) and $1 for their bin with you.  We would also be delighted to attend your next neighborhood or community meeting to distribute bins, materials and share information about the City's recycling program.  Call our office at 314-772-4646 or sign up online to have Saint Louis City Recycles at your next meeting!
This program is part of the City of St. Louis Sustainability Action Agenda Goal to double residential recycling by 2018.  Let's do this!
*Limit one per household, while supplies last.
Project funding provided by: