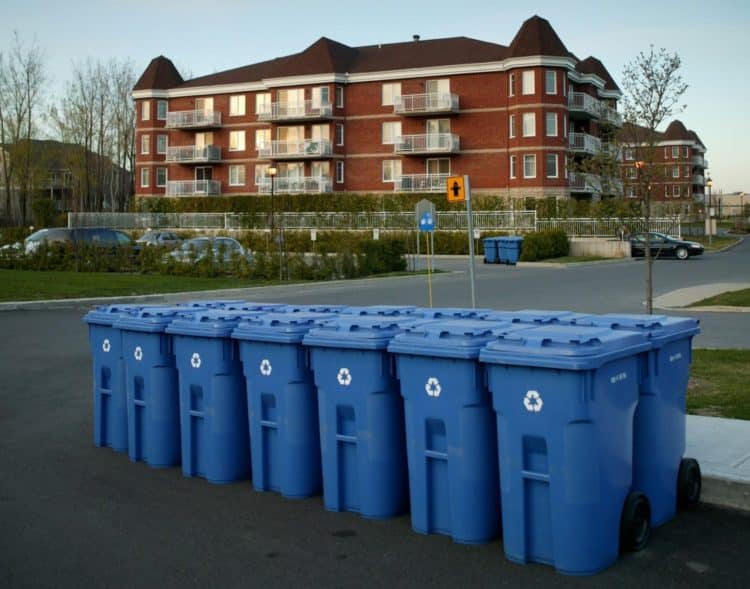 Recycling in multifamily dwellings is great for the residents and can benefit property managers as well. Although the City's Refuse Division usually does not service multifamily dwellings over 4 units, there are ways to begin recycling if you live in a large multifamily building!
If You're A Resident, Be The Recycling Advocate!
Talk to your property owner or management company about the benefits of recycling.

Potential cost savings as trash decreases and recycling increases.
Attract new tenants and retain existing tenants with the perk of onsite recycling.
Ability to promote their "green" efforts.
Volunteer to educate your neighbors if a recycling program is started.
If you expected a recycling service upon moving in, there are most likely other residents who expected the same. Find them and work together!
If you want to begin recycling before your building adopts a program, consider using one of the City's many recycling dropoff sites.
If Your Building Does Not Offer Recycling, Start the Conversation! 
Most large apartment buildings are not serviced by the City's Refuse Division which means the landlord or property owner chooses their own waste hauler.  If your apartment building does not have recycling and this is something that is important to you, be the one to start the conversation!  We've developed this easy to use petition to let your landlord or property manager know you care about your community and the environment.   Ask your neighbors if they would like to sign for the cause and support implementing recycling services, but understand that not everyone will agree.  Once you've collected your signatures, send the document to your landlord or property manager with your contact information to follow up.  Please note this is an example and you can create a petition that might better suit your apartment building's needs. 
Find the Petition for Multifamily Recycling here!
If You're A Property Owner Or Manager, Start Recycling In Your Building!
1. Choose a Recycling Hauler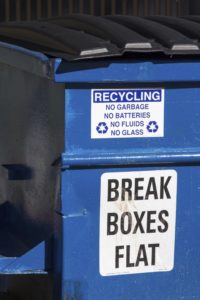 Often the company who picks up your trash offers recycling pickup services as well. You may even be able to save money on your waste hauling service as recycling increases and trash decreases. Contact your trash hauler to see if they have recycling services available.
If you need help finding a recycling hauler, review our Recycling for Businesses, Institutions and Nonprofits page.
2. Determine a Collection Method
Each property is unique, so consider how residents take out their trash currently and determine if this process can be adopted for recycling.
If your building has trash rooms or trash chutes on each floor, consider placing recycling containers nearby or designate an area for recycling. You can even retrofit your trash chute to direct trash and recyclables into separate dumpsters when they reach the bottom.
Most multifamily dwellings are able to add an exterior recycling dumpster next to their trash dumpster where residents can empty their household recyclables.
Work with your recycling hauler to determine what type of collection service will best suit your property's needs.
3. Educate Residents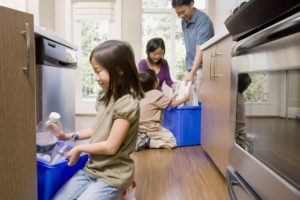 Promote recycling as a perk of your building to attract new tenants and retain existing tenants. Include your "green" practices (like recycling) in your marketing materials.
Provide a "How to Recycle" brochure to all new residents upon moving in and semi-annually afterwards.
Residents need to know the why, what, where and how's of recycling in your building. Your recycling hauler should provide you with an accepted materials list.
Be sure recycling collection bins or areas are clearly marked and have sufficient signage.
Continue recycling education with tips and facts in residential newsletters, annual mailings, bulletin boards, etc.
4. Go a Step Further
If your building hosts events for residents, implement waste reduction practices and choose recyclable materials. Check out how to Close the Loop.
Adopt sustainable practices in your own property management office. Visit our Recycle at Work page to begin learning how to reduce, reuse and recycle at your workplace.
Additional Resources for Multifamily Buildings