Bags2Bench:  Tour 2021-2022
The Bags2Bench is on tour around the St. Louis Metro area, you won't want to miss this!  

"Wait, what's the Bags2Bench tour?" 

The Bags2Bench tour is a bench made of recycled plastic bags and wraps that will be visiting area campuses through May 2022.  This bench is really neat because it's made out of 13,500 recycled plastic bags and wood fibers! 🤯  You can learn the types of plastic bags and wrap that are accepted at PlasticFilmRecycling.org.  Plastic bags and wraps do NOT go in our Blue Bins.

Check out the poster below to see which universities it's traveling to and from!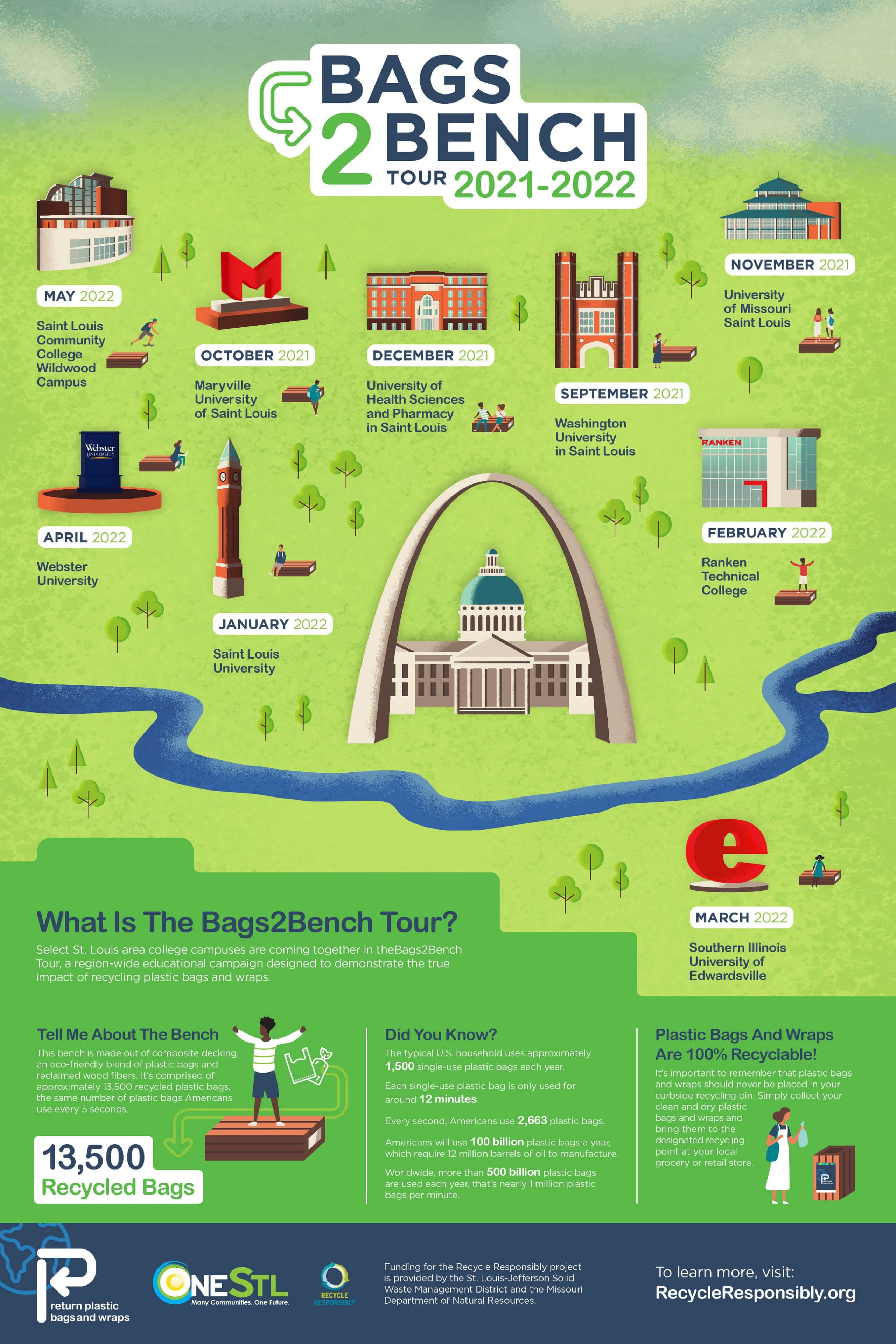 ---
Recycling Responsibly during COVID-19:
Recycling responsibly is still more important than ever. While some of our shopping and waste-reducing habits have paused, there are still ways to practice recycling responsibly while continuing to monitor and lower your house-hold waste. The six easy tips below will help you recycle responsibly during these times.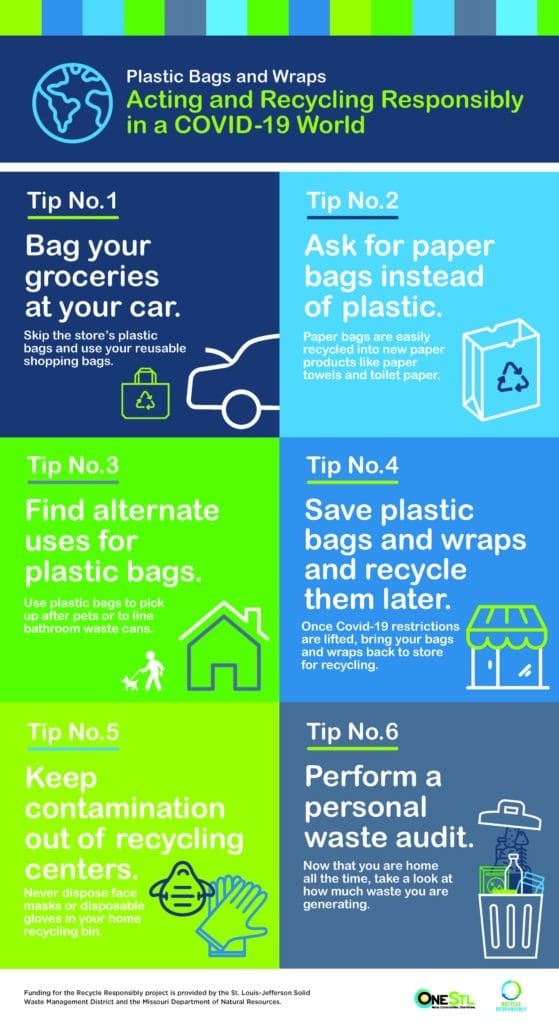 ---

Recycle Responsibly Campaign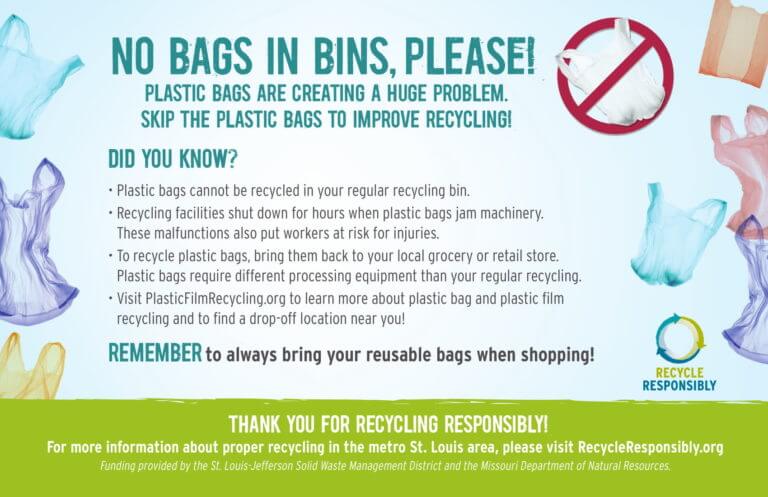 Across the St. Louis metro area in Missouri and Illinois, we have created ONE regional recycling message. The "Recycle Responsibly" campaign highlights keeping plastic bags OUT of recycling bins.
Plastic bags are harmful to the recycling sorting process and jams machinery which puts workers at risk. If recyclables are put in a plastic bag they cannot be sorted, so you're recycling will go to the landfill.
Plastic bags and film can be recycled at many local grocery and retail stores. Plastic film includes any soft, stretchy plastic like newspaper sleeves, deflated bubble wrap, plastic wrap around toilet paper, sandwich baggies and much more! For a complete list of plastic film and dropoff locations visit www.PlasticFilmRecycling.org.
Bring your reusable bag to any store. Keep a few handy in your car. Some stores will even give you a discount for bringing your own bag!
Stick With the 6! Remember, only these 6 categories of recyclables can go in your recycling bin: paper, flattened cardboard, plastic bottles & containers, glass bottles & jars, metal food & beverage cans and food & beverage cartons. If it's not on the list, it doesn't go in your recycling bin! To find a place to recycle or reuse an item NOT on the list, visit our recycling database.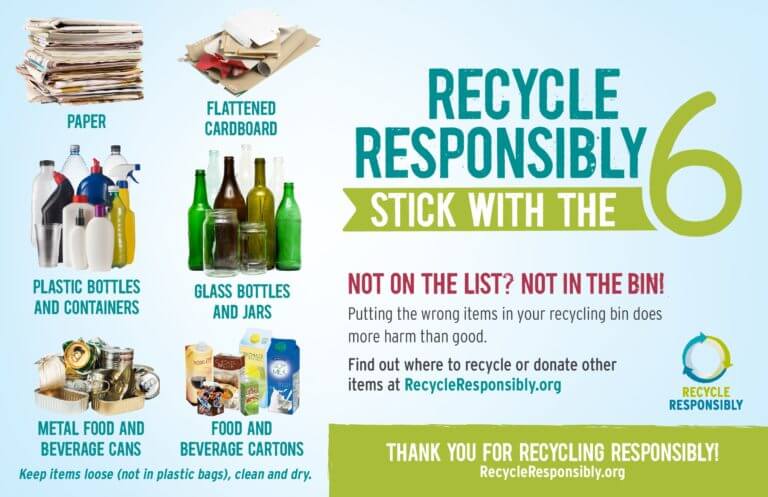 How YOU Can Help:
Sign up to be a Recycling Ambassador and share with friends and family that plastic bags cannot be put in your recycling bin.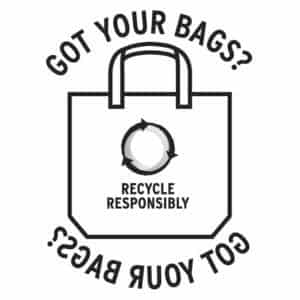 Download and share the "Recycle Responsibly" flyer.
Stop by our office and pick up a "Got Your Bags?" window decal to help you remember your reusable bags while shopping.
Bring your own reusable bag to the grocery or retail store. Your small steps make a BIG IMPACT!
More Information:
OneSTL is a regional initiative that focuses on a sustainable future for the St. Louis region. The OneSTL Materials and Recycling Working Group includes the following entities: East-West Gateway Council of Governments, St. Louis-Jefferson Solid Waste Management District, City of St. Louis, St. Louis County, Jefferson County, Madison County, City of University City, Brightside St. Louis, EarthWays Center of Missouri Botanical Garden, Republic Services, St. Louis Composting, St. Louis Earth Day, St. Louis Green Dining Alliance, Recycling on the Go, University of Missouri-St. Louis, and Washington University. For more information, visit www.RecycleResponsibly.org.