What is Household Hazardous Waste?
Household Hazardous Waste (HHW) includes unusable or unwanted chemical products such as pesticides, fertilizers, paint thinners and stains, etc.  On average, a household can accumulate 30 pounds of HHW in a single year, which equates to 1.6 million tons in the U.S. each year.  Chemicals haven't been around for many generations.  In fact, man-made chemical production increased by 40,000% in just one generation!  You probably have a lot more sitting under your sink, in your garage or in your basement than you think.
If you are unsure of how to identify if the product you have would be classified as HHW, the product label (shown to the right) will have a symbol(s) to indicate that it's hazardous.  If one or more of these symbols is shown on the label, it is likely classified as hazardous and accepted at a local HHW facility.  Look for words like flammable, danger, corrosive or others.  Check out What Bin Does It Go In for examples of HHW.
It is important to manage HHW safely to avoid putting your family at risk.  If chemical products are stored improperly, expired or mixed together this can lead to fires or explosions. They can become more corrosive and toxic as well.  Be sure to store chemical products in a cool, dry place and in the original container.  Chemicals are stored in specific containers to prevent risks, like corrosion or fires.  The container label states important information such as expiration date, the chemicals used to make the product, how to store and use the product properly, how to dispose properly and more.  By keeping the label and storing chemicals in the same containers, this can save you and others a lot of time and risk by simply keeping the chemicals in the original container and keep your loved ones safe.  Never mix different chemical products together!
How to avoid further creating household hazardous waste
The first practice is to reduce!  But how is this possible to do with HHW?  Here are a few ways to reduce:
Use safer, non-hazardous alternatives when possible (see below for more information)
Buy only the amount you need for a project
Use products entirely for their intended purpose
What you can't reduce, reuse:
Store products properly to extend their shelf life
Store products in their original container with the label intact
Share leftovers with others who can use the excess
Finally, if you are not able to reduce or reuse the HHW, there are recycling and safe disposal options for St. Louis City, St. Louis County and Jefferson County residents!
How to properly dispose of household hazardous waste

HHW should not be disposed of in your trash!  When compacted, it can become dangerous for the trash worker to pick up the waste safely.  If it is crushed and mixes with other materials it can become very dangerous.  HHW in the landfill can pollute groundwater and drinking water when landfills leak.  This can harm us and wildlife (see picture below).  It is very important to use proper disposal facilities for HHW to ensure safety.  Just one quart of oil can pollute 250,000 gallons of water!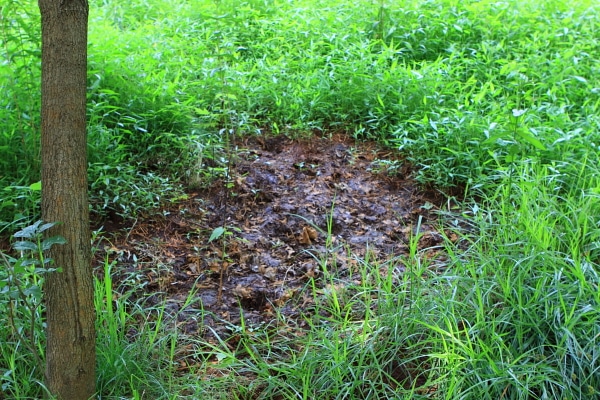 In St. Louis, there are two HHW facility locations.  One is located in South County and the other in North County.  Each location has specific days and times they are open, so be sure to check their availability before making a trip.  It is considered illegal dumping if you drop off HHW when the facility is closed.  There are a variety of items that are accepted for recycling.  This makes it easy to bring various items to one location when spring cleaning!
It is an old practice to dispose of chemicals (and medication) down the drain, sink or toilet.  This practice is extremely harmful to our health because these chemicals pollute our water sources and make their way it into our bodies.  For more information about what should not go down the drain, check out this Safe Home resource page.
Alternatives to Household Hazardous Waste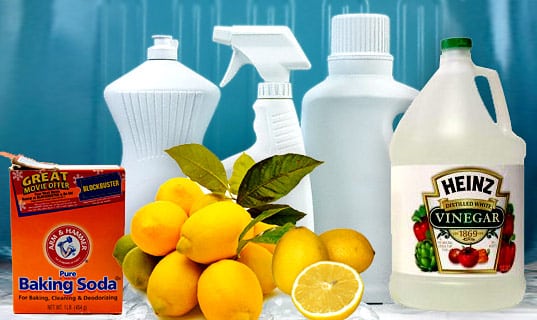 There are many safer alternatives of cleaners to buy, such as Better Life, which is made right here in St. Louis.  If you have more time on your hands and want to know exactly the ingredients used in your cleaner, there are several, easy non-hazardous cleaners you can DIY at home.  Alternative cleaners can disinfect without the harsh fumes and exposure to unsafe chemicals.  If fact, harsh cleaners contain nerve-deadening chemicals and can temporarily block the sense of smell when they coat the nasal passage.  Some cleaners, especially laundry detergents which have prolonged, heavy skin contact, can cause skin irritations or rashes.
Many homemade cleaners can be made with simple, more natural ingredients like white vinegar, citrus, essential oils, baking soda and olive oil.  Homemade cleaners can be used for many different purposes, rather than creating a new cleaner for each specific room or appliance.  Be sure to label your homemade cleaners appropriately and keep them away from children (while a safer option, ingestion would still be dangerous).  EarthEasy shares how to make homemade cleaners for various cleaning needs.  Oftentimes, homemade cleaning products not only ensure the safety of your health, but also save money.
More Information and Resources
Want to learn more about safe alternative cleaners?  The Human Experiment is a documentary available on multiple viewing channels or download.
Want to teach others about HHW?  University of Missouri Extension has created a jeopardy style game along with sample questions and points to teach others (in a fun way!) about the impacts of HHW.
Learn more about safe automobile recycling in this informative blog, Vehicle Recycling: An Eco-Friendly Alternative.