Moving or Decluttering?  Don't Trash It!
Spring is finally here in St. Louis and that means it's prime moving and spring cleaning season!  Have you accumulated items over the years you don't want/need anymore?  As you come and go from St. Louis and beyond, you can move lighter knowing your items didn't end up in a landfill.  We have places to recycle or donate mattresses, carpet, electronics and more!  Remember to break down all cardboard boxes when you're finished and ready to recycle them!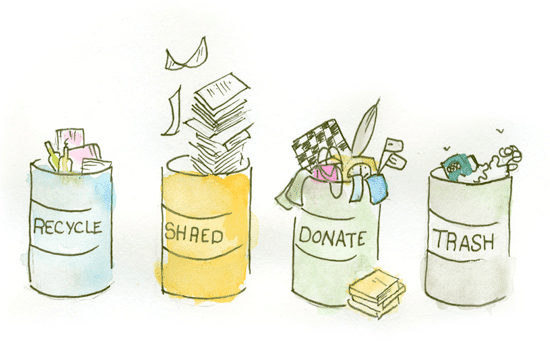 Mattresses
Home Sweet Home and The Salvation Army both accept reusable mattresses for donation in GOOD condition.  Please call them to arrange a pick-up.  Furniture and other household goods in good condition are also accepted!
Have a mattress that's not in good condition?  Earthbound Recycling in Eureka will recycle them for a small fee, but you must deliver them to their facility.
Please call them directly for hours of operation and disposal fees.
(636) 938-1188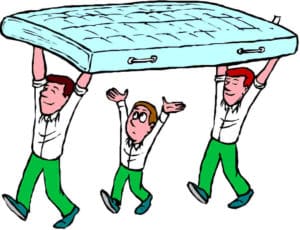 Paint
You can donate usable latex paint to St. Louis Artworks or Habitat for Humanity.  If you're selling your home, consider leaving the paint for the new owners to make touch-ups easier.

Are your paint cans empty?  You're in luck!  Recycle empty metal paint cans in your blue city dumpster or rollcart!

Oil based paint is considered a hazardous material and must be taken to a Household Hazardous Waste facility.  There are two locations open to residents of Saint Louis City:  Saint Louis County and Jefferson County.  Appointments are required.  To make an appointment, City residents can call the Citizens' Service Bureau at 314-622-4800 or visit www.hhwstl.com.  For a complete accepted materials list, visit:  www.hhwstl.com/disposal.

Carpet/Rugs

Do you have carpet remnants or rugs you need?  Don't put them in your trash dumpster, take them to Flooring Systems, Inc for recycling!  They are located at 6291 Lemay Ferry Rd. St. Louis, MO 63129.

Electronics & Paper Shredding 

Recycle all of your electronics (anything with a cord, plug or battery) at the Brightside/ Earth Circle Recycling Facility located at 1660 S. Kingshighway Blvd!  Fees may apply.  You can drop off paper for shredding here as well Monday-Friday, 8:30-3:30 for a $5 flat fee plus $0.15/lb.

Books

Many book stores will buy back books that are in good condition.  But if your books are past their prime, you can recycle them in your Blue Bin!  Paperback books can be recycled as is.  For hardback books, separate the hard cover from the paper and recycle both parts.

Styrofoam

Styrofoam cups, plates and to-go containers are not recyclable.  However, Foam Products Corporation in Maryland Heights accepts foam packing materials (but not foam peanuts) and medical shipping coolers for recycling.  Also, Leftovers, etc accepts Styrofoam meat trays, balls and peanuts in addition to a slew of other items!

Clothing 

There are a myriad of second-hand stores where you can donate reusable clothing, but what about rags and clothes with holes or paint stains?  St. Louis is fortunate enough to have a textile recycler right here in the city!  You can drop off non-mildewed clothing, linens, towels etc to any yellow Remains, Inc. collection box.  There is one located at their site at 3340 Morganford.  They also accept purses, paired shoes, hats, backpacks, belts and more!

Other

Have other items we haven't mentioned here?  Or looking for a more convenient location?  We've got you covered!  Check out our database for where to take items beyond your Blue Bin:  STLCityRecycles.com/Database