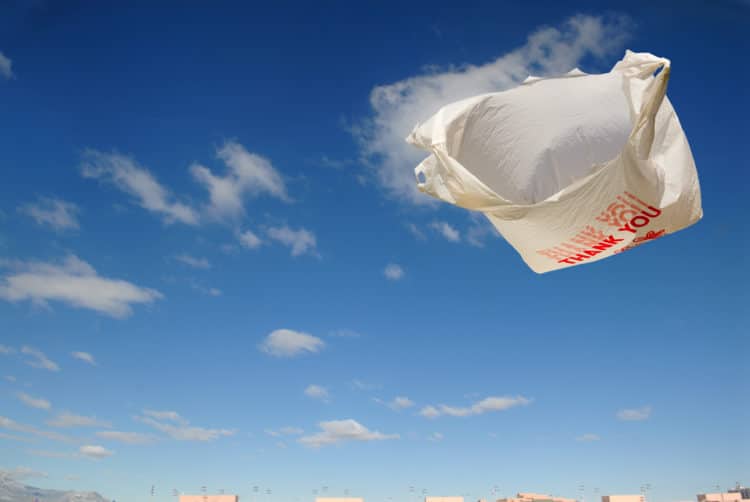 The City of St. Louis does NOT accept plastic bags or plastic film for recycling, even if they are marked with recycling arrows or a plastic resin number.  
Why Can't I Put Them In My Blue Bin?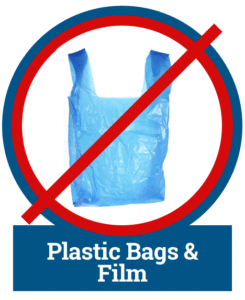 In St. Louis, recycling is really easy because we can mix all of our recyclables together in the same blue bin.  This is called single stream recycling (aka mixed recycling or commingled recycling).  While it makes it easy for you and I to recycle, those items must be sorted back out later to be useful for manufacturers.  To do this, all of the recyclables collected from City alley dumpsters and curbside rollcarts are taken to a Materials Recovery Facility (MRF) where they are sorted and separated.  The MRF uses a combination of automated machinery and manual laborers to separate the materials.
If a laborer is able to get their hands on a plastic bag full of materials as recyclables fly down the sorting line, it, along with its contents, will get sent to the landfill.  As the separation process continues, plastic bags can become entangled in the machines, causing breakdowns which shut down the entire sorting line.  When plastic bags clog up the machinery, it takes time and money to get the equipment back into working order.  Since our MRF does not want plastic bags clogging up their machines, we cannot accept them for recycling.
What Can I Do To Help Stop Plastic Bag Contamination?
Recycle Them Elsewhere
You can recycle plastic bags and other plastic films (like zip lock bags, bread bags, etc.) by taking them to many big box retailers and grocery stores.  Most grocery stores have plastic bag recycling dropoff collection boxes near the entrance of the store.  Find a location near you.
Reduce Your Use
Join the St. Louis Zoo ALIVE teen volunteers and say #ByeToBags!
Say, "No, thanks," when your purchase does not require a bag.
Choose paper bags if you don't have reusable bags…then recycle the paper bags in your Blue Bin!
If a plastic bag is necessary, ask the sales clerk to avoid double bagging your purchases.
Use durable, reusable, washable cloth bags and take them with you when you go grocery shopping.
Carry a reusable bag with you (or keep it in your car) for unexpected shopping trips.
Choose to Reuse
Reuse your plastic bags multiple times before recycling them at the grocery store.
Make a throw pillow out of scrap fabric and stuff it with plastic bags.
Cut the bags into strips, tie them together and crochet or knit a hand bag, throw rug or place mats. (You can find many patterns online or modify a pattern you may already have.)
When moving or mailing breakable items, wrap them with plastic bags.
Use them as trash liners or as "gloves" to pick up animal droppings.
But, It's Okay To Put Them In The Trash, Right?
Plastic bags can cause problems in trash cans too.  While, it may be convenient to use them as trash can liners, empty plastic bags are the ultimate escape artists.  They fly out of open trash cans and pollute the environment by getting stuck in trees, washing down sewer drains that flow into our rivers and being mistaken as food by wildlife.  Even if they make it to the landfill, they can blow away there too.  That's right, plastic bags are a problem even for landfills!  So, even if you throw plastic bags away properly, they can still end up polluting the environment.
So, the moral of the story is that with all of the problems associated with plastic bags, the best option is to avoid them completely.  But, if that's not possible, be sure to NEVER put them in your blue recycling dumpster or rollcart and ALWAYS take them back to a local retailer to be recycled.