Presenting, "The Ultimate Waste Disposal Guide for St. Louis City Residents!"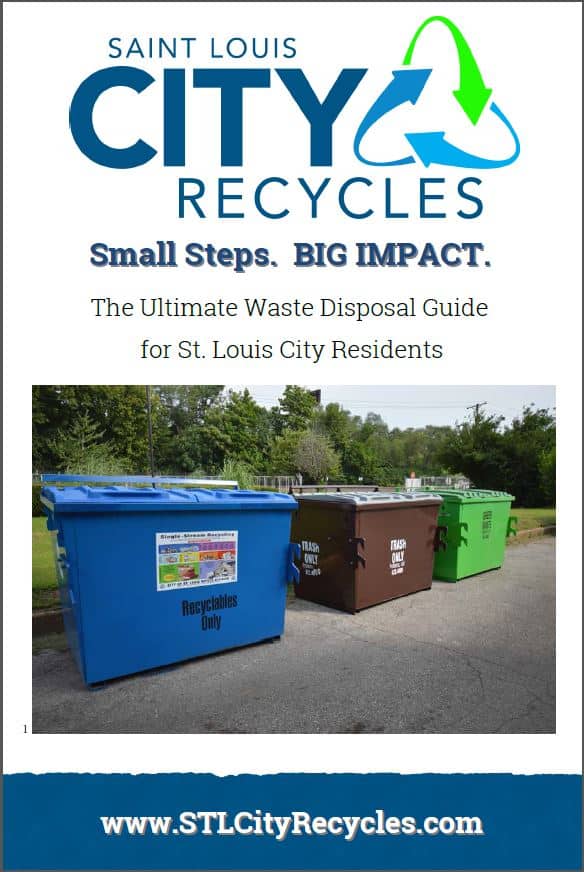 This guide is designed to help you easily find the information you need when it comes to how the City's waste services work.  It's packed with information from recycling and trash to yard waste and bulk pickup and more!  Print this guide (two-sided, of course) to keep on hand the details you need about the City's waste services.
We also have "The Ultimate Waste Disposal Guide" printed in booklet form.  Feel free to stop by our office to pick up one or enough to share with your neighbors.  We are here to give you the tools and knowledge you need to recycle!
If you need a quick recycling reference, our Recycling 101 flyer is perfect as a one page handout to keep posted at your home or share with neighbors.  All of our printed materials are available in our online toolkit.
The information presented is provided in support from the City of St. Louis, Brightside St. Louis, the St. Louis-Jefferson Solid Waste Management District and the Missouri Department of Natural Resources, with photography provided in part by Gwendolyn Mercer Photography.