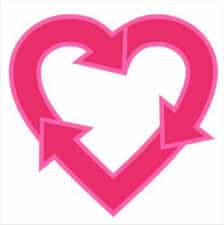 February is the month of love.  To us, the best way to love your family and friends is to love the Earth!  Here are 9 recycling tips after the Valentine's Day chocolates are all eaten and the flowers have dried up.
After all the chocolate is gone, cardboard candy boxes can easily be recycled in your Blue Bin.
Don't forget to recycle wine bottles in your Blue Bin.
Corks to be recycled  and reused at many places!  Search our "Beyond the Blue Bin" database for "corks" and type in your zip code to find a location close to you!  You can even throw natural corks in your compost pile, too!
Don't send old flowers to the landfill. Dispose of dried flowers in the green yard waste bin or in mix them in with your compost!
No one will judge you if you choose not to save your Valentine's card, but remember to recycle it!
Still treating someone special to a great restaurant meal?  Look no further!  Try a Green Dining Alliance restaurant.  You can eat well knowing the place you chose is striving to be sustainable!
Ask for restaurant left overs to be wrapped in foil (you can recycle it in your Blue Bin when finished), not Styrofoam.  Or bring your own Tupperware when going out to eat!
Leave reusable tote bags in your car to carry all your groceries to make the perfect home cooked meal.
When out shopping, bring your own water bottle or coffee mug to refill at your favorite pit stop.
Do you have any great reduce, reuse and recycle tips?  Share in the comments below!  For more tips and facts follow us on social media! @STLCityRecycles