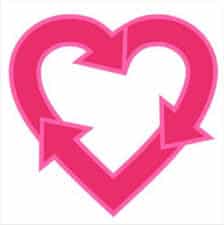 💘  February is the month of love!  💘
The best way to love your family and friends is to show some love for the Earth!  Here are 10 recycling tips for after the Valentine's Day chocolates are all eaten and the flowers have wilted.
After all the chocolates are gone, the cardboard candy box can easily be recycled in your Blue Bin once flattened.  The plastic tray must be removed and placed in the trash.
Wine bottles can be recycled in your Blue Bin once they are empty and the cork is removed.
Corks may not be accepted in our Blue Bins but that doesn't mean we have to send them to the landfill.  Corks to be upcycled and reused at several places!  Search our "Beyond the Blue Bin" database for "corks" to find a location near you.  If your cork is natural, it can be composted! 
Don't send old flowers to the landfill.  Dispose of dried flowers in the green waste bin or in mix them in with your compost!  The plastic wrapping that flowers often come in must be placed in the trash.
Even though your flowers may be wilted, there are a lot of crafts you can do with dried flowers!  Here is an article that describes 13 ways to use your dried flowers.  
Valentine's Day cards can be recycled in your Blue Bin as long as there is no glitter or plastic wrapping.  
If you're heading out for a meal, be sure to support local restaurants.  Find a Green Dining Alliance restaurant to ensure you are loving the earth this Valentine's.  Green Dining Alliance restaurants support local farmers, do not use styrofoam and practice the best sustainability strategies.  You can also bring your own to-go containers for any leftovers.    
If you are getting take-out, ask the restaurant for foods to be wrapped in foil and not styrofoam, when possible.  Clean aluminum foil can be recycled in your Blue Bin.    
Got your bags?  If you are opting for a delicious homemade meal, don't forget your reusable bags!  While shopping, skip the plastic produce bags and precycle to lower your waste even more!  read our blog post and learn how to precycle here.  
Don't forget to hydrate while you're out and about.  Fill up and bring your own water bottle or coffee mug to avoid one-time-use mugs.
Do you have any great reduce, reuse and recycle tips?  Share in the comments below!  For more tips and facts follow us on social media! @STLCityRecycles