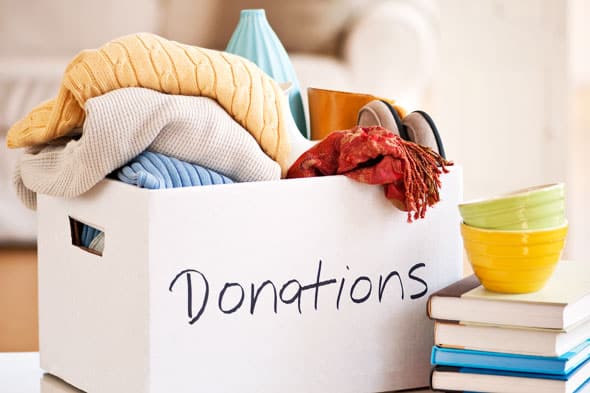 These Organizations Will Pick Up Your Donations
During the holiday season, waste increases in all areas:  food, clothing, electronics, furnishings.  This comes at a great cost to our environment and budgets.  Before sending goods to a landfill, get them into a new home for another person to use!  Check out this list of charities.  (This list is not a comprehensive list of all organizations that pick up donations.)  For more information on how to set up a pick up date and accepted items list, please contact that organization.
American Kidney Fund  [www.kidneyfund.org]
Phone: 314-968-9768
Address: 101 Kenrick Plaza Shrewsbury, MO 63119
Accepted Items: Antiques, baby accessories, bikes, books, CDs, records, clothing, computers, electronics, fabric, gas-powered tools, housewares, jewelry, luggage, artwork, small appliances, refrigerators under 48", small furniture, toys, shoes, wire hangers, car, truck, van, boat, campers and RVs.
Habitat for Humanity St. Louis' ReStore [www.habitatstl.org]
Phone: 314-678-4576
Address: 3763 Forest Park Ave. St. Louis, MO 63108
Accepted Items: Household, building, and construction materials in good condition, including never-opened paint cans, doors and windows, plumbing and electrical fixtures, lumber, appliances, cabinets, hardware and roofing materials.
International Institute [www.iistl.org]
Phone: 314-773-9090 (ext. 174 or ext. 145)
Address: 3401 Arsenal St. St. Louis, MO 63118
Accepted Items: Working appliances (microwaves, vacuums, heaters), children's books, clean linens, toys, sporting goods, cookware, unused diapers, baby products, household cleaners and clean furniture.
MERS/Missouri Goodwill Industries [mersgoodwill.org]
Phone: 314-371-1296
Address: 4200 Forest Park Ave. St. Louis, MO 63108
Accepted Items: Vehicles, power tools, home electronics (DVD player, computer, VCR, game consoles, cameras, CD players, cell phones), linens, clothing, shoes, home décor, toys, books, small appliances and cookware.
Miriam Switching Post [www.miriamswitchingpost.org]
Phone: 314-646-7737
Address: 292 Hanley Ind. Court Brentwood, MO 63144
Accepted Items: Furniture, patio furniture, antiques, lamps, mirrors, artwork, china, crystal, silverware, jewelry, table linens, décor, coffee table books and cook books.
Salvation Army [stlsalvationarmy.org]
Phone: 314-535-2000
Address: 4121 Forest Park Ave. St. Louis, MO 63108
Accepted Items: Household goods, clothing, vehicles, large and small furniture.
St. Vincent De Paul Society of St. Louis [svdpstlouis.org]
Phone: 314-881-6006
Address: 4928 Christy Blvd. St. Louis, MO 63116
Accepted Items: Clothing, large and small appliances, kitchenware (pots, pans, glasses), hospital equipment, home goods (rugs, artwork, mirrors), furniture (lamps, bedroom sets, outdoor furniture), electronics (computers, DVD, phones), unopened toiletries and food.
Vietnam Veterans of America [www.clothingdonations.org]
Phone: 314-423-8823
Address: 9715 St. Charles Rock Rd. Breckenridge Hills, MO 63114
Accepted Items: Baby items, bedding, bikes, books, clothing, curtains, jewelry, kitchenware, shoes, small furniture, small appliances, tools and toys.
Wheels For Wishes [missouri.wheelsforwishes.org]
Phone: 314-205-9474
Address: 13523 Barrett Parkway Dr. Ste. 241 Ballwin, MO 63021
Accepted Items: Car, boat, motorcycle and RV.