February is the month of love. The best way to love your family and friends is to love the Earth, too!
Here are 6 simple tips that will help you lower your waste and show your true love, Mother Earth, how much we really love her.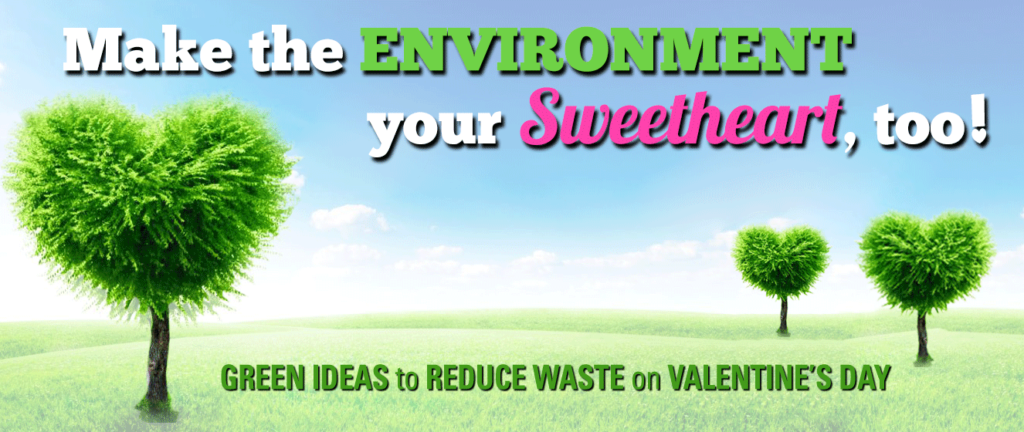 We all love receiving greeting cards! If you purchase a Valentine's Day card, buy a card made from recycled paper and avoid glitter, ribbon and bows. What's better, though, is a hand-made card crafted with love. Be sure to recycle your cards once you're done soaking in all the feels.
If your sweetie loves flowers, be sure to place all plastic wrap in the trash can, NOT in the Blue Bin. If flowers are a must, be sure to shop local. We have some really great local florists in the city such as Flowers and Weeds, Flowers to the People, Always in Bloom and Lesher's Flowers. Spent flowers can be composted or placed in your green yard waste bin. If you want to go extra green and show your true love for the Earth, buy a native tree or bush that you and your love could plant together.
Bring on the sweet tooth! Candy bags, wrappers and all ice cream cartons must go in the trash, NOT the blue bin. Shop local, fair trade chocolate and locally made candy that supports our communities. Head to Crown Candy or Chocolate Chocolate Chocolate to stock up on your treats. Empty and flattened cardboard boxes should be recycled in your Blue Bin.
If you plan on heading out for a Valentine's Day meal, be sure to make it sustainable by supporting one of the many restaurants that belong to the Green Dining Alliance. GDA restaurants source their foods locally and are dedicated to reducing waste and recycling. These restaurants never use Styrofoam, so your leftovers will be packaged low-waste.
If a home cooked meal is more your style, be sure to pre-cycle by purchasing items in packaging that can be recycled. Don't forget your reusable bags to haul your groceries inside!
Don't forget the bubbly! Empty wine and champagne bottles should be recycled in the Blue Bin. Corks can be repurposed at Upcycle Treasure Box or placed in the trash.